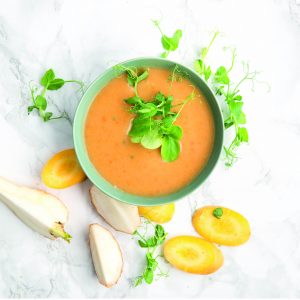 SOUP UP YOUR LUNCH!
Visit restaurant Fields and buy a delicious sandwich and collect stamps! Got 10 stamps on your loyalty card? Hand in the card at our cash desk and enjoy a free bowl of soup of your choise! Get your stamp card at the cash desk.
The story behind our soups
Did you know that we provide homemade soups daily? Hutten is the only caterer in the country to have their own culinary hub in Veghel, where our chefs prepare food and bevarages day and night. The soups contain no preservatives and no unnatural E-numbers. The use of salts, sugars and wrong fats is reduced or even eliminated. The basic ingredient is used a lot, resulting in delicious and healthy products with a lot of flavor. you can taste the difference!
From potential waste into tasty soups
A selection of our soups are made at the Verspillingsfabriek. Where potential 'waste' products are turned into tasty soups. Prepared by people with low employment prospects. Read the whole story on: www.deverspillingsfabriek.nl