Every year, a guest satisfaction survey is conducted within Brightlands Chemelot Campus. In 2018, 326 respondents took part in the survey. The results of the survey will be used to make and improve our plans for the coming months. The different outlets will use the provided information. Participation in the survey contributes to our product selection and service and is therefore much appreciated.
We asked several main questions. These questions give us a good insight into how you as a guest experience our products and service.
Changes based on your comments
Pop-Up concepts at  Fields
We've planned some nice new Pop-Up concepts for the upcoming months. The first theme day will be lounged at Fields, 2 January 2019.
The concepts have been developed to surprise you and to offer more variety in Fields. Every season new concepts are added or existing concepts are renewed so that it never gets boring!
From Burger bar to Ramenbar!
But we have more. For example, we have the Falafel bar, inspired by the cuisine of the Middle East. The entire Pop-Up program will be published via narrowcasting in the Campus and on the Food & drinks page.
Activity calendar.
Every month we have planned theme days and other nice activities. The calendar can be found on the signs placed at the entrances of the Campus or is published on Food & drinks page.
Lunchdeals: Daily a deal.
In November, we have started to introduce lunch deal in Fields. The budget option will be displayed on the narrowcasting. Every day we create a new lunch deal.
Monday
Soup and salad € 4.99
Homemade soup of your choice with a delicious lunch salad.
Discount € 0.45
Tuesday
Pizza and bottle of water € 5.99
Pizza of the day with a bottle of water.
Discount € 0.55
Wednesday
Sandwich and homemade lemonade € 3.99
Healthy sandwich with a homemade lemonade.
Discount 0.50
Thursday
Soup & panini € 4.49
Panini of the day with homemade soup.
Discount € 0.70
Friday
Lunch salad and plantbottle water € 5.99
Lunch salad with a bottle of water.
Discount € 0.55
NEW
Sandwiches  € 2.75
Every day, two varieties of baguettes are offered.
Banqueting service 'Crossing Campus
In the renewed banqueting folder you'll find various arrangements, breaks and other services that are offered across the whole campus. With the best products of the season, soup of the Verspillingsfabriek or cookies, brownies and muffins from our Hutten bakery.
Something to celebrate? Organizing an event? Everything is possible!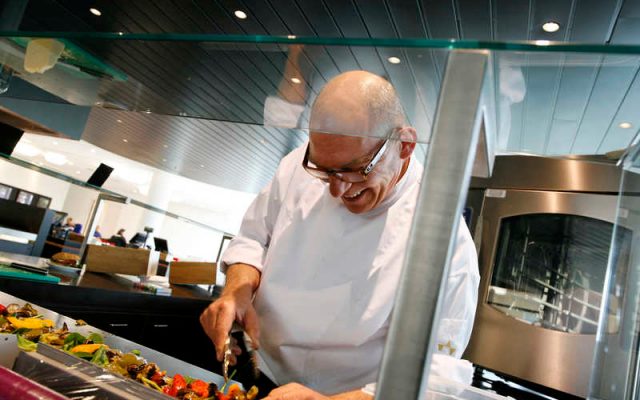 Focus on your health
We feel responsible for the food and beverages we serve to you. This is why we follow the guidelines of authorities that have the latest scientific insights regarding food in relation to health and sustainability.
We've combined all these insights into our own vision on food and beverages centred on five elements: flavourful, attractive, healthy, sustainable, and transparent. Our products contain less sugar, less salt, and healthier fats, ensuring conservation of vitamins and minerals, a better life for animals, transparency about where our ingredients come from, and no artificial E-numbers. We believe in doing business sustainably and we're aware of the origins of all our products. That's why we can tell you a transparent, honest story!
Many people eat too many processed products that often contain excessive amounts of sugar and salt, conservatives and artificial colours, fragrances, or flavourings. We choose to prepare our products and dishes as fresh as possible, using well-chosen ingredients.
Our outlets & opening hours
Check our outlets and current opening hours in Center Court
Be part of our progress, your insight counts!
We would like to learn from you to make sure we keep on doing do the things makes you happy.
Kind regards,
Hutten